Our Team
Here To Serve You, Your Family, & Your Pets
Dr. Teresa Willis, DVM
Bachelors Degree In Animal Science: Clemson University, 1985

Doctor of Veterinary Medicine: Tuskegee University School of Veterinary Medicine 1989.

Special Interests: Internal Medicine, & Soft Tissue Surgery

Following graduation, Dr. Willis practiced for 6 years in the Gainesville and Atlanta, Georgia area, including as an emergency room doctor. Dr. Willis then met her husband, Joey, an Abbeville native, and moved back to South Carolina. She has been working in Greenwood since 1996 and opened Emerald City Animal Hospital in June 2002.

Dr. Willis and her husband have two children, Jonathan and Rachel. To complete their family they have one dog, Buddy. When not at work, Dr. Willis enjoys spending time with her family and is very involved with the children's numerous activities. She enjoys traveling and many family activities such as camping, boating, and swimming.
Dr. Atticus Mabry, DVM
Bachelors Degree In Animal Science: Clemson University, 2011

Doctor of Veterinary Medicine: University of Georgia, College of Veterinary Medicine, 2015

Special Interests: Veterinary Dentistry, Cosmetic and Soft Tissue Surgery, & Critical Care of Hospitalized Patients

Dr. Mabry also provides primary care to Diana Pet Food's Panelis. Emerald City Animal Hospital has helped them set an extremely high standard of care for their amazing animals through cooperation with The University of Georgia, and UVS for specialty care.

Dr. Atticus Mabry is a native of South Carolina, and grew up in the Upstate. He has practiced in Georgia and South Carolina, and has provided veterinary care to rural families in Costa Rica and Panama through a mission organization.

His family runs a beef cattle farm just outside of Greenwood. They produce their own hay, and manage the entire operation through cooperation with other local beef cattle farms including the Burdette's and Dyal's. His wife, Kristen, is currently attending the UGA College of Veterinary Medicine. They enjoy hiking with their three Golden Retrievers, Allie, Lexi and Finch. They spend a lot of their summer weekends with their pets and friends at Lake Jocassee and Keowee, and the family farm.
Dr. Paula Watkins
Bachelors Degree in Biological Sciences, with a minor in Aquaculture, Fisheries, and Wildlife Biology from Clemson University, 1997

Doctor of Veterinary Medicine from Ross University School of Veterinary Medicine with a clinical year at Purdue University College of Veterinary Medicine, 2006.

Special Interests: Soft Tissue Surgery, Radiology/ Ultrasonography, Critical Care, complex and challenging cases

Dr. Watkins is the veterinarian for PAWS, a federally licensed wildlife rehab center located in Waterloo SC. She also acts as the on-site veterinarian for the Greenwood Humane Society where her duties include disease control, wound management, soft tissue and orthopedic surgeries, and animal welfare cases. She was integral in launching the successful TNR (trap-neuter-release) program for population control of feral cats in the community.

She volunteered as a veterinarian for The UP200 Sled Dog race in Marquette Michigan, which is a qualifying race for the Iditarod. It was a life-long dream to participate as one of the veterinarians at medical check points but it was a little colder than here in SC.! Checking the health of all the dog teams under a black starry sky, with temperatures in the negatives, was very rewarding.

She feels a special love and deep connection for police and military working dogs. Dr. Watkins is also one of the veterinarians for Greyhound Crossroads, a 501c3 group dedicated to placing greyhounds into loving homes.

Dr. Watkins shares her home with her husband, a ten year old son, and a 24 year old step son. Also partaking of the kibble are 4 dogs and 3 cats. She loves to hike, camp, and be in the woods; but visiting as a family to our National and State Parks is one of her most favorite things to do.
THE TEAM
The team is an integral part of our hospital. They allow us to provide the best service possible at all times. All of our registered technicians complete many hours of continuing education every year to stay up to date on the best quality medicine. They also participate in lunch-n-learn activities with the doctors on a regular basis. These activities are one reason we are closed from 12 until 2 pm on Fridays.
Licensed Veterinary Technicians
Laura Gayle, CVT
Laura is a certified veterinary technician with 26 years experience. She joined Emerald City Animal Hospital in 2005. Laura graduated in 1993 from the Veterinary Technician program in Houston, Texas. She is also a certified wildlife technician with a special interest in squirrels. Laura and her husband Jimmy live on an 100 acre farm in Chappells, SC. They have two beautiful children, Kim and Jamie. Her home is filled with 5 rescued dogs: Fetcher, Sandy, Kewpie, & Zoe. Laura loves spending time with her family. She also enjoys going to concerts, riding four wheelers, and crafting.
Daniel Stutzman, LVT
Daniel joined the ECAH family in 2017 as one of our Licensed Veterinary Technicians. He graduated from Stautzenberger College in 2003. He worked at a small animal practice in Michigan for 9 years before being approached to enhance his career as a technician by teaching full time at Stautzenberger in the Veterinary Technology Program. Daniel grew up on his family's farm always loving animals and was very involved in 4-H and FFA raising and showing horses, rabbits, and sheep. He and his partner moved to Greenwood in 2015. Daniel enjoys showing and actively breeding champion Italian Greyhounds and Tibetan Mastiffs, landscaping, and running.
Cindy Pettus, LVT
Cindy, a licensed veterinary technician, became a member of the Emerald City Animal Hospital team in 2009, after graduating from the Veterinary Technology Program at Piedmont Technical College. She lives in Greenwood with her two children, Seth and Olivia. She shares her home with Luke, a precious orange tom cat and Oliver, a rescued maltipoo puppy. She has a special fondness for boxers.
Kassidy Miller, LVT
Kassidy started at ECAH in 2017 as an extern. She joined the team in 2018 as a Licensed Veterinary Technician, after graduating from the Veterinary Technology Program at Piedmont Technical College. She graduated from Dixie High School in 2013 and lives in Antreville with her mom and step-dad. Kassidy loves watching movies, attending motorcycle races, and spending time with family and friends.
Peter Gregory, CVT
Peter has been in the veterinary field since 2000 and a technician since 2005. He joined the Emerald City Animal Hospital family in November of 2018. He recently moved to Abbeville from Simpsonville and is enjoying life in the country on his farm. Peter spends his time off reading, playing & listening to music and gardening. He currently has 2 dogs (Rosie and Lily), 3 cats (Annie, Mimi, & Colby Jack), and 3 chickens (Gonzo, Camilla, & Haybelle).
Veterinary TECHNICIAN Assistants
Brandy Fuller
Brandy started at ECAH in 2017. She has been working in the veterinary field since 2009. Her love and passion for animals make up who she is today. She enjoys spending time with her husband, Chris, friends and family, dirt track racing,fishing, camping, and going on cruises. She also has several feline friends that she shares a home with.
Tina Reynolds, OFFICE MANAGER
Tina joined Emerald City Animal Hospital in August 2005. She brought with her 25 years of customer service experience, and over 14 years in the animal care field. Tina is involved with schnauzer rescue and does some wildlife rescue as well. Tina has lived in Greenwood most of her life. She lives in Greenwood with her husband, Roger and daughter Brooke. They complete their family with 4 dogs. Tina has a passion for caring for babies that may have been rejected by their mother.
Lisa Dornberg, RECEPTIONiST/CLIENT COMMUNICATIONS
Lisa graduated from Abbeville High in 2011. She has worked in the veterinary field since graduation. She has a great love for animals. She lives with her fiance, Ronnie, and their two daughters, Anneliese and Cera. She has a shih tzu named Boomer and a cat, Sadie. She enjoys spending time with her family and getting in the car to visit new places she has never been.
Finch (aka Fin)
Fin came to us as a puppy with Dr. Mabry. He rides up and down the road with his dad between Athens and Greenwood and loves to greet everyone. His favorite place in the clinic is anywhere there are people, and he loves sleeping under the front desk.
Buddy
Dr. Willis' Labrador/Golden Retriever mix loves to come to work and make his presence known. He loves to greet everyone and play with all his buddies in the clinic. When not working with his mom, Buddy loves to catch Frisbees, go boating, swimming and hiking with his family.
Frankie
Frankie came into Emerald City Animal Hospital in October 2002 as a patient with a wound to his front paw from a lawn mower. He was adopted by Emerald City Animal Hospital at that time and has made the front desk his own. As you walk in, you may find him snuggled in his bed beside the fax machine or he may be sitting on the counter just waiting for the opportunity to greet you.
Raya
Dr. Willis' new addition to the family. She is a sweet Golden Retriever that loves being in the middle of everything! With so many other Golden Retrievers at Emerald City…how can she go wrong!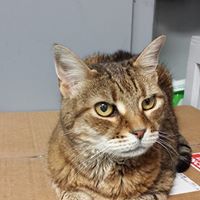 Emma (2002-2017)
Emma came to Emerald City Animal Hospital as a feral kitten in August of 2002. She joined our family and has run the office ever since. Emma is a very loving and social cat that seems to know when a person or pet needs support. She runs into the exam rooms to visit the owners and cuddles with the patients recovering from surgery. She passed in 2017, and will be greatly missed by our staff and clients alike.